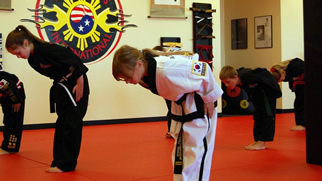 HOW MARTIAL ARTS INSTRUCTION WILL BENEFIT YOUR CHILD?
At Martial Arts International we have the #1 Martial Arts program for kids in the United States. Our program is vigorously designed in conjunction with experts in the field of education to provide social, physical, emotional and attitudinal growth.
Our program works hand in hand between the family and school, providing improved self-discipline, self-confidence, mental alertness, and goal setting skills. We have several different tools available and reward systems in place to assist with this process.
Positive Behavior Rewards :
There are many ways for our students to earn attitude tickets and rewards!
Completing a weekly job list, bringing in notes from home or school for going above and beyond expectations and bringing in an awesome tests from school with scores of 100% A+ are just some of the examples.
Goal Setting:
It is important for each child to learn to set short-term, intermediate and long term goals. At Martial Arts International, every child's ultimate goal is to achieve a rank of Black Belt. Black Belt is a symbol of excellence in Martial Arts and an important tool for instructors and parents to use for developing desire, tenacity, and for teaching the importance of follow through in any activity. Young people are taught at Martial Arts International that through dedicated, intense work, all worthwhile goals in life are possible.
Emphasis On Academic Excellence:
All young people in the program are required to bring copies of their report cards from school. Those who earn high marks receive an ACADEMIC ACHIEVER patch for their academic excellence to put on their uniform. Every child's effort is considered. From C to B and B to A to straight A's are what we teach. Small goals leading to bigger achievements!
Martial Arts International's STAFF work hand in hand with schoolteachers and parents to insure a well-balanced and focused development process fro each child. Parents have attributed our program with improved grades as a direct result if the increased achievement motivation, self-direction, and self-confidence provided by the program.
Proper Use Of Skills
It is constantly stressed to all students that Martial Arts skills require them never to be abusive or offensive and is only use defensively. In fact, it's part of our student creed.
5 REASONS WHY EVERY CHILD SHOULD BE ENROLLED IN MARTIAL ARTS
1. Improved Report Cards:
Our curriculum is designed to teach children the importance of concentration. Improved concentration means that your child will learn more at school. Therefore you can expect your child to receive better grades for both academics and attitude. In our school, children who receive A's and B's on their report car receive a patch on their uniform indicating that they're Academic Achievers.
2. Karate Builds Healthy Kids:
Karate is a great workout! You're child will breathe better and sleep better. Children who take karate are slimmer, make better decisions about food, and in general, learn to take better care of themselves.
3. Positive Attitudes:
Kids in our program learn to have a positive and respectful attitude. You won't find repeating yourself over and over, or arguing with your child like most parents do. Kids learn to be respectful of their parents and teachers. You might even catch your child saying Yes Ma'am or Yes Sir!
4. Self-Confidence:
It's true; kids who take karate develop better self-confidence. They're encouraged to take chances, to push themselves further than they thought possible. The success they experience through karate classes teaches them that they can be successful at anything if they truly believe they can, and are willing to work hard. Improved confidence leads to better grades, a better circle of friends, better performance in sports and extra curricular activities in general.
5. Self-Defense: Karate Teaches Two Forms Of Self-Defense:
One is physical – your child will improve his or her strength, flexibility and overall health. Additionally, your child will learn to strike with tremendous power and effectiveness. Hopefully, your child will never be picked on or need to fight…but should the occasion arise, shouldn't everyone know how to protect themselves? The second form of self-defense karate teaches is internal. Children learn to spot danger and avoid dangerous people, places and activities. Karate can help your child avoid the need for a physical confrontation. This second form of self-defense is perhaps the most valuable of two.
What our parents and students have to say about our programs:
"Martial Arts International has helped Zach to gain more confidence, self-assurance, and maturity.  He has become more focused, respectful, and disciplined since joining MAI.  He looks up to the instructors and has great respect for Master Julius.  We are very proud of our son and how Martial Arts International is helping him become a better person."

–Dr. & Mrs. Kevin Borcher
I would like to pass on my thanks and congratulations for such a successful program. My son, has made good progress towards our initial goals since starting at Martial Arts International. His focus and confidence improved a great deal. In fact, his confidence level went through the roof when he broke the board. The look on his face was a kodak moment.

Again, I would like to thank Master Melegrito for what you do. I've never seen anyone as effective with children as you are–all ages. Michael respects you a great deal–he's like a different person when he's in your class. We are hoping it spreads to his personal life.

–Tom Whalen
My son has become a leader in our neighborhood and at school. He has earned respect from peers and adults alike. I've been told the best compliment a parent can get, "Your son is the most respectful child I know."

–James S. Riley
Our entire family is benefiting greatly from our Martial Arts experience! Both of our children exhibit greater self esteem and are excelling in school. Martial Arts is a fabulous way to bring our family together. Thank you MAI!

–Laura Petry
Since Kelvin has started at MAI his independence, respect, problem solving, and communication skills have all dramatically increased. He is growing into one of the best behaved and well mannered children I have known.

–C. Clay
Samantha and Nicholas both have exhibited better concentration skills overall and confidence in what they do. They love attending class, and learning new skills. MAI also encourages them to become all they can be in all they do.

"What has MAI done for our family?  MAI has had an amazing affect on our children.  The exercise, the discipline, learning self-control in all aspects of their life—it's been wonderful!  Master Julius and all his instructors really care about the kids and work hard to ensure that everyone is getting the attention on detail that they need to become the best that they can be. When our daughter, Samantha, was invited to join the Black Belt Club, she was thrilled because she would get extra class time.  She really didn't want to teach or demonstrate:  she just wanted to do more in class.  However, as she went to more classes and became more confident in her skills, we began to take her to tournaments and testing what she had learned against others.  Needless to say, she has scored well in a few contests, and how is excited at the chances given to her to help out in class or go to events and demonstrate what she can do!  She's really growing into a self-confident young lady in all areas of her life!

Our son, Nicholas, has always been a handful.  (But what young boy hasn't?)  MAI is helping him with his self-control.  He is proud to be able to show others what he can do and loves the opportunity to help classmates with lower belt ranks when they work together.  The exercise it affords him amazing.  His overall health is much better now than when he first started.

We just added a new addition to our family, Brandon, and when he is old enough, you can bet he'll also be going to Martial Arts International.

–Theresa Kabourek