LIL DRAGONS PROGRAM: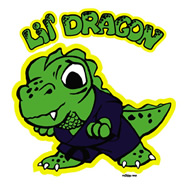 The Lil' Dragons program was designed specifically for children ages 4-6 years old. In the Lil' Dragons Program, your child will learn and grow in a process that accommodates their skills and abilities. They will train with other children in their age group, and will not be distracted by older classmates.


Your child will feel comfortable and more capable of achieving excellence. They are at an age where the more special they feel, the harder they will try. We believe the time between the ages of 4 and 6 are the MOST IMPORTATNT and CRITICAL years of a child's development. Our LIL' DRAGONS program will enhance POSITIVE DEVELOPMENT in a FUN, SAFE and MOTIVATING WAY.
This program's skill requirements are composed of not only PHYSICAL but MENTAL benefits GUARANTEED to make your child PHYSICALLY STRONGER and MENTALLY PREPARED. Our motto is… LIL" DRAGONS TODAY, LEADERS TOMORROW!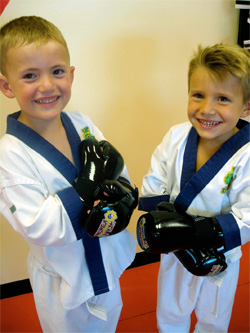 The Lil Dragons Program is structured on a rotational curriculum that teaches 8 very important skills. The 8 advanced skills selected for the Lil Dragons program were broken down into specific requirements that each student will tackle at every belt level. This means your child will be sharper, more focused, and better developed physically, mentally, emotionally, and socially than a child who does not participate in a program strategically designed like the Lil Dragons Program.
Here are the 8 advanced skills broken down in the Lil Dragons Program definition:
Focus/Concentration- your child will learn how to focus all of their attention to the task at hand while committing themselves to learning and growing.
Perseverance/Teamwork- your child will learn how to face challenges presented to them, knowing that the challenges will be difficult to complete. They will learn how to face challenges alone and with peers.
Courage/ Balance- your child will learn how to overcome fear and nervousness through training that initially seems intimidating.
Discipline/Intensity- your child will learn how to perform their martial arts skills with strong effort and attitude.
Coordination/Speed- your child will learn the components of speed and how to control their balance, body posture, and technique.
Fitness/Agility- your child will learn the mechanics that govern movement and how it plays a role when they are jumping, dodging, and moving about quickly.
Control/Technique- your child will learn the fundamental components of good technique, which will make them great athletes.
Memory- your child will enhance their memory through fun and educational drills.
Complete education of these 8 skills will help your child be the best they possibly can be at their age of development. They will advance to the top of their age group while they learn and have fun. You and your child will not regret the adventure you are about to undertake.
What our parents and students have to say about our programs:
"Our son Gerrit has been with MAI for the last 4 months, and our experience with the program and his progress couldn't be better. The Little Dragons program is a wonderful reinforcement of the values of discipline, focus, teamwork, respect and physical fitness that we as a family work towards instilling in our son. He has a wonderful time learning with others at his age and stage in martial arts which encourages his enthusiasm for practicing his skills at home. What came as a positive surprise was his response to the way the instructors encourage him to incorporate each of the value lessons he receives in each weekly class. It has made us so proud to see our five-year old son tell us that he was 'practicing discipline' by cleaning his room without us asking and 'demonstrating respect' by referring to other adults as 'sir' or 'ma'am'. Martial Arts International is definitely family oriented as the instructors at MAI are warm, friendly, and supportive. We definitely look forward to our continuing partnership in our son's physical and mental development."

–Heath & Patricia Harrold
"Our boys have loved the Little Dragons program, and they have learned amazing things. As a parent, I especially appreciate the values they have absorbed, particularly to respect themselves and others. I continue to be surprised at the ability they have to set goals at the age of seven, a direct result of their participation in Little Dragons. My husband and I highly recommend this program."

–Connie & Bill Allan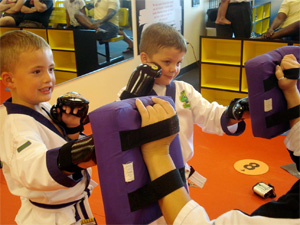 "Since joining MAI, Miranda's confidence in herself has grown, and she has become much more disciplined. Miranda really enjoys her Lil' Dragon classes!"

–Sharon Kuzela
"Since joining MAI, Miranda's confidence in herself has grown, and she has become much more disciplined. Miranda really enjoys her Lil' Dragon classes!"

–Sharon Kuzela
"We felt welcome the first day we visited. Our son has steadily improved physically and mentally. We especially like the fact that he gets training year-round (not just spring, summer or fall)"

–M. Mell